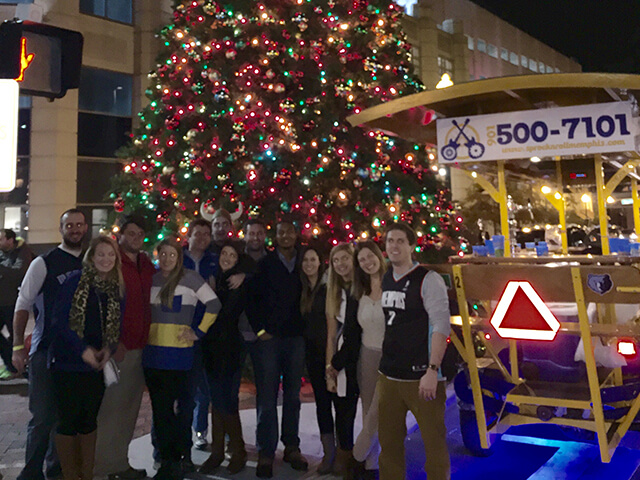 Holiday party ideas perfect for every event!
Doing some research on holiday party ideas that will be fun for everyone? Sprock n' Roll Party Bikes love to host all celebrations, including your holiday party. Whether you are sporting your Halloween costume, your tacky Christmas sweater, or wearing green for St. Paddy's Day, we are happy to have you on board!  Celebrate holidays a whole new way riding through the streets of Downtown Memphis with a cold (or hot) drink in hand and friends and family at your sides! Isn't that what holidays are all about?
Have an idea for a customized holiday party?  Email us and we will hook you up!
3 Tips For A Memphis Holiday Party
The best holiday party ideas always dawn great decorations! Deck the halls (or the party bike) with decorations for any holiday you are celebrating!
A great idea for a holiday party everyone will appreciate? Themed cocktails for the occasion! Make your mix drink in advance and bring it in a plastic pitcher! For example: may we recommend a 'Dublin Iced Tea' for your next St. Patty's day celebration? It's dangerously good!
Create a holiday-themed playlist to get in the spirit! Maybe have a maximum limit on how many times 'Monster Mash' can play for the sanity of our drivers…