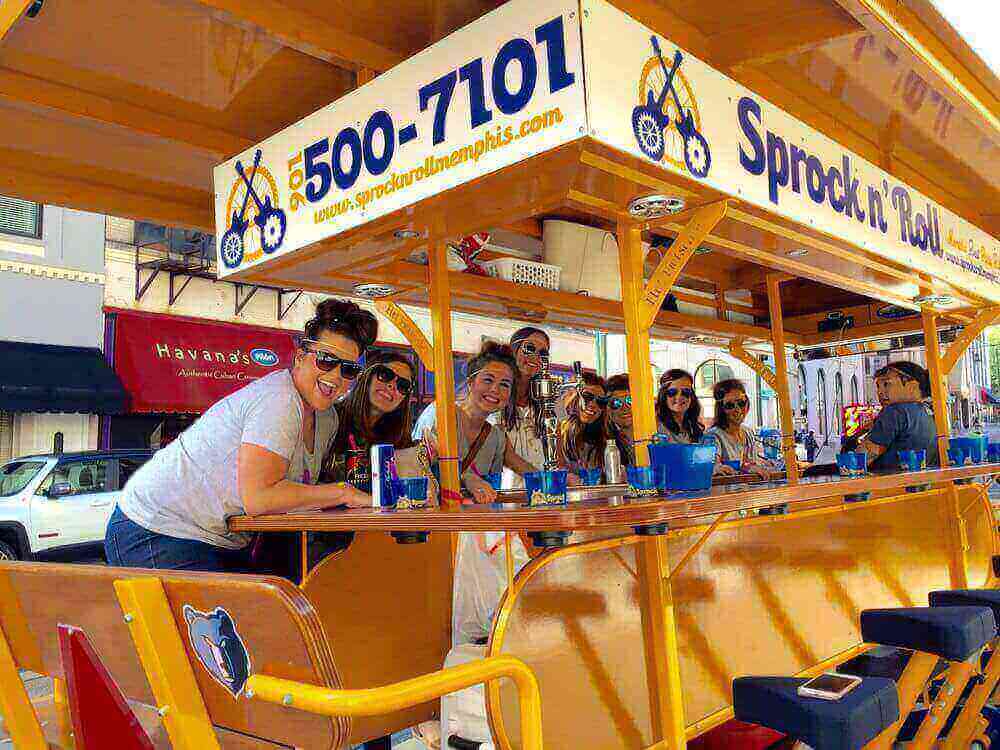 Planning a good ol' fashioned Memphis bachelorette party?
Look no further if you are hosting or looking for a fun activity for a Memphis bachelorette party. Bachelorette parties are one of our most popular activities because they are a blast on our bikes! Our party bike tours are perfect for the bride who is more excited for her Memphis bachelorette party than the actual wedding! What can be better than sipping cocktails in the open air while singing your hearts out and laughing with your best gal pals? Our drivers can double as photographers – get great group photos (on and off the party bike), drink, pedal, and party! Book Sprock n' Roll before walking down the aisle and saying I do, because your girl gang is one of a kind. Say "yes" to the best 2 hours of your still single life! Bring street appropriate decorations and let the good times Sprock n' Roll!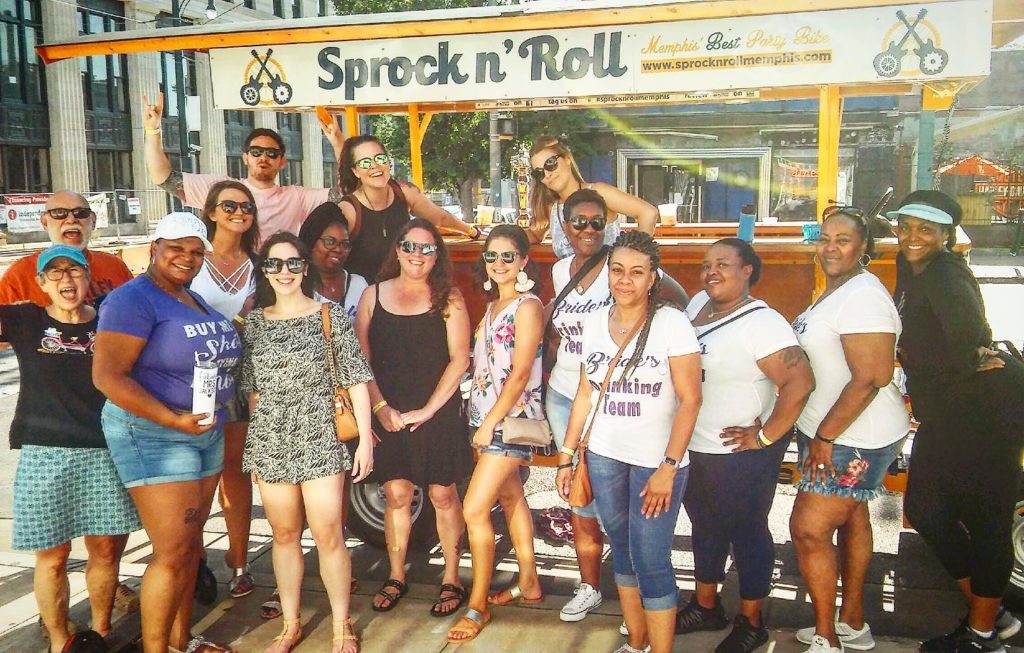 Downtown Route
Book Sprock n' Roll's pedal taverns to experience the best party bike tours in Memphis. Pedal your way through Downtown, Memphis and soak in the sites and sounds during this 2-hour ride. Enjoy delicious beverages at each of our bar stops and/or choose to take the scenic route to drink what you brought.  Begin and [...]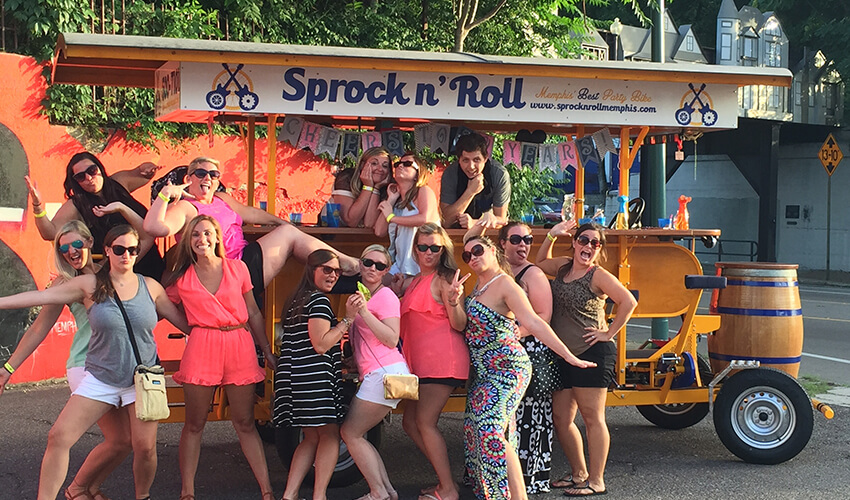 Midtown Route
Hop on one of the best party bike tavern tours in Memphis! Begin and end this 2-hour tour on the edge of Overton Square. Pedal our pub crawl beer bikes through Overton Square and Cooper Young in Midtown Memphis and bounce in a few bars along the way. Check out why the locals LOVE Midtown. [...]
4 Tips For A Great Memphis Bachelorette Party:
Bring the bride's favorite drinks! You are allowed to bring any bevvies you want – as long as they are not glass!
Create a playlist perfect for a party – we suggest a healthy mix of boot-stompin' country and booty-shakin' pop.
Make sure to hit the best areas that are perfect for celebrating a Memphis bachelorette party – don't even think about skipping downtown and Beale Street! We hope you brought your dancing shoes…
Planning a Bachelorette Party Via Party Bike in Memphis
Gather up your bride tribe for a girl's night out on our Memphis party bikes! Our party bikes make it a special day out with the bride to be. There's no better way to blow off steam before the big day than by touring the hottest spots in Memphis with your closest friends.
We make it easy to avoid the difficulties of renting a venue and all the headaches that come with it. There's no need to hire a caterer or to get entertainment, because our party bikes are a fun activity that all of the bachelorette's friends can enjoy. There's nothing better than fresh air and cocktails while making a splash around town on our party bikes!
Sprock n' Roll's party bikes are perfect for a theme-based bachelorette party. Just bring your music, beverages and your decorations of choice. Your guest of honor will be impressed by this special event! If the bride to be loves the excitement of a night out on the town, she will love our party bike tours.
We can take your party to Downtown Memphis where your girls can enjoy a two-hour long pub crawl or scenic ride. Your BFFs will sample the best drinks around while taking in the sights and sounds of Downtown Memphis.
Our party bikes can accommodate between 5 and 16 guests for either an intimate gathering or a big blow out. Consider renting multiple party bikes and inviting the friends and family of your honored guest.
Don't settle for less for your bestie's last night on the town as a single gal! A Sprock n' Roll party Downtown will make it an event to remember. Contact us when you're ready to get started planning a bachelorette party via party bike in Memphis!