Public vs. Private Party Bike Tours
Private party bike tours fit well for friends and family of 8 or more people, while public party bike tours fit groups with fewer people. Our private parties can accommodate 4 peddlers or more, however you must pay for 8 or 12 riders (depending on the route) to keep this ride private. Our bike party organizers can only run a private tour if there are at least 4 people ready to pedal and have fun. Want to know how private and public party bike tours compare? Read on to learn more!
Private Party Bike Tours
Our private party bike tours are designed for larger groups of 4 to 16 passengers. We have customized private party bike tours for bachelorette parties, corporate outings, birthday parties, team-building exercises, bachelor parties, girls night out, family reunions, etc. We will package your pedal bike tour to your liking, so all you have to do is pedal and have fun.
Public Party Bike Tours (Mix n' Mingles)
Our public party bike tours are designed to provide you an opportunity to pedal, unwind, and gear up as you take a weekend out with friends and family. We've packaged our public pedaling party bike tours to match the needs of smaller groups that wouldn't wish to or may not have enough riders to rent a private party bike. Custom-named as MIX N' MINGLE TOUR, your public party bike tours will be confirmed once we have booked a minimum of 4 people booked (we need at least 4 pedalers) on the bike. Pick your departure time and day and let us show you a hella good time!  You may arrive and see "strangers" on your bike, but you will most likely leave with new friends.
BOOKING DETAILS:
Book via our online booking system, which will also show our availability calendar. Please go to the next step to see your total as the first page in your shopping cart will only show your subtotal without the taxes and fees.  You will receive a confirmation email with details about the tour. All riders must provide a photo ID at the time of the tour and have signed the electronic Sprock n' Roll Liability Waiver in advance.
You may email us at info@sprocknrollmemphis.com to book multiple bikes.  An 18% gratuity is mandatory for multiple bike rentals.  Ability to book online will close 3 hours in advance of a ride, but feel free to email us to check availability.  A 10% booking fee will be auto added to all bookings.
Looking to add food to your tour?  Check out our Brunch Tour
If you don't see the availability you were looking for, email us and we will do our best to accommodate your group!
Private Tour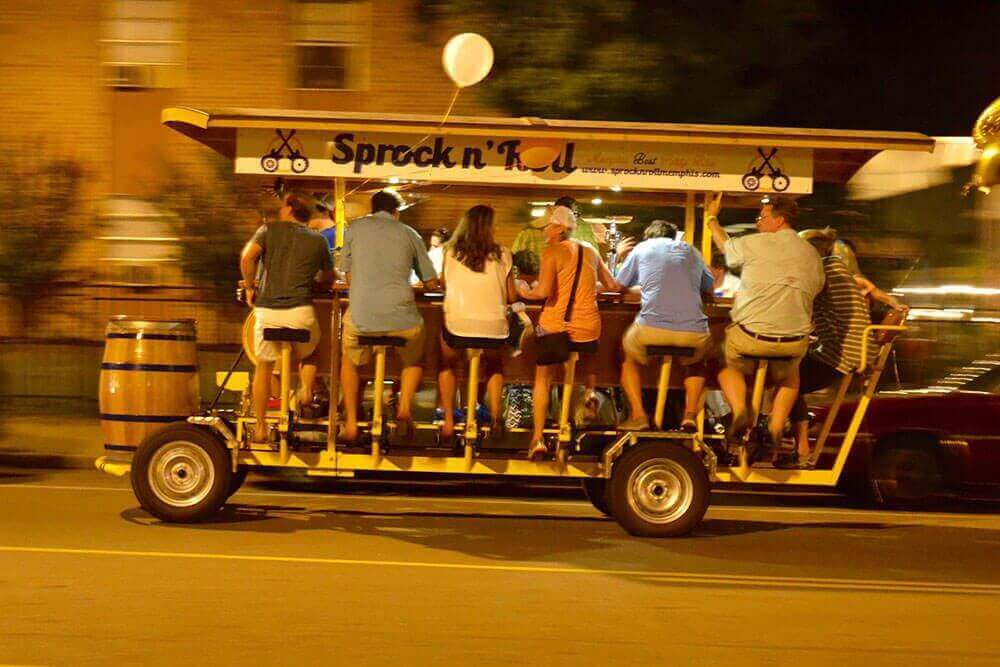 Reserve your private tour for 8+ riders.  Smaller groups can utilize our Mix n' Mingle option.
Mix n' Mingle Tour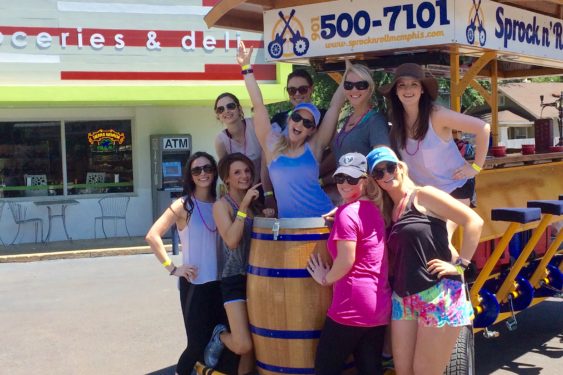 Join other small groups & Mix N' Mingle with other folks while enjoying Memphis from the seat of a party bike
Restrictions:
We use electronic waivers, DO NOT book under your name on behalf of someone else without checking the "I am making this reservation, but not participating in the trip" box during checkout.  A $10 change fee will be incurred for any changes.
BYOB – no hard straight liquor on the bike; it MUST be premixed in plastic containers; aluminum cans and boxed wine is permitted
NO GLASS IS PERMITTED ANYWHERE ON THE BIKE
Must be 21+ to ride our public rides
You must be 18 to ride and 21+ to consume alcohol for private rentals
Minimim of 4 total pedalers are required; Maximum is 16 per bike
There is a weight limit of 300 lbs.  Anyone 300 lbs+ will not be able to sit on a pedaling seat (due to manufacturer recommendations and safety precautions) and will be considered 2 of the 3 available seats on the back bench and must pay for 2 seats.
---
Cancellations & Refund Policy:
Private Tour
Deposits are non-refundable and non-transferable.
Your remaining balance will be auto collected 7 days prior to scheduled ride.  No refunds. No shows will not be offered a refund.
No shows will not be offered a refund
$150 reservation change fee for any changes made to your reservation & subject to availability.  No changes made to reservations that are less than 7 days prior to ride.
Pre-paid/Re-loadable credit cards are no longer accepted
Mix n' Mingle Tours
We must have 4 pedalers booked on the experience in order to roll.  We will charge the card on file 7 days prior to arrival and/or when we reach the minimum of 5.
No shows will not receive a refund
$10 reservation change fee per person for any changes made more than 7 days in advance to ride & subject to availability.  Changes not allowed less than 7 days prior to your confirmed ride.
---
WEATHER POLICY
We ride rain or shine. We will contact you of a cancellation due to weather, so please don't assume your tour is cancelled. You will not receive a refund if you don't show. Weather cancellations can occur up to the time of the tour.
Safety is our #1 priority, we will not allow a tour to ride in lightning or severe weather. If your tour is cancelled within the first hour, you will be provided a rain check.