Assemble your crew to pedal your way through that hangover with our Downtown Memphis Brunch Tour.  Enjoy delicious brunch and drinks at *Blindbear Speakeasy followed by an additional drink stop of your choice if so desired from our many bar partners.  Still have questions? check out our FAQ page!  *Please note Blindbear does allow the use of cigarettes in their restaurant.
How does it work?
Our Memphis brunch tour begins and ends at Tin Roof located at 315 Beale Street.  BYOB, but remember, no glass.  This ride will be 2 hours in length and your stops will be as follows…
Stop 1:  Blindbear Speakeasy for brunch (see selections below map)
Stop 2:  Your choice (if desired) for drinks
This tour runs Saturday and Sunday mornings beginning at 10:45 am.
Pricing:
You buy the entire bike, which can accommodate 6 – 16 people. Split these prices up by how many riders you have and you will get your per person pricing.
Your food, beverages, and tip are not included in this price.  A tip of 20% will be automatically added.
CONFIRMATION DETAILS:
Please arrive 20 minutes prior to your ride.  Meet us at Tin Roof, located at 315 Beale Street.  You need your VALID photo ID to check in.  We provide a cooler, cups and ice.  Please remember this experience is BYOB. NO GLASS is allowed on the bike so please transfer any beverages from glass to plastic.  Aluminum cans are acceptable as well as plastic bottles.  Also, a 15 – 20% tip is recommended for your awesome guide and bartenders at the bars, so please bring cash.
We will NOT be able to extend your ride if you or anyone in your party is late.  Parking is not provided so please plan to arrive early enough to find parking for your group.  The Peabody Parking garage (fee varies) is very close to Tin Roof and is located at 250 Peabody Place.
You will receive a confirmation email from us after booking.  READ IT AND SHARE IT!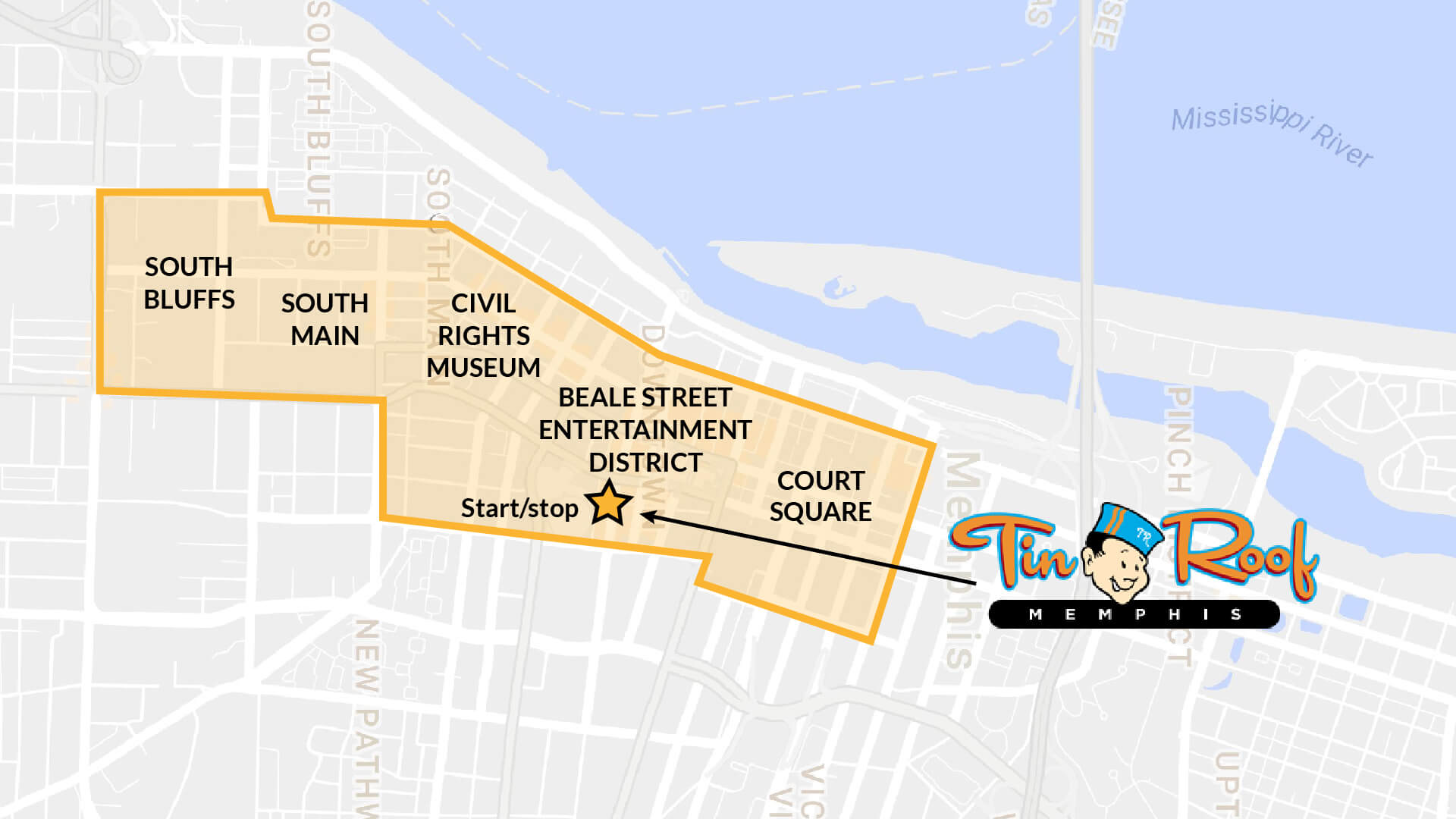 What To Bring?
NO GLASS, NO EXCEPTIONS! The City of Memphis prohibits glass on these bikes.
Bring anything you'd like to eat or drink. Beer, boxed wine, cider and liquor are all permitted. Sprock n' Roll will provide cups as the City requires all alcohol be in a cup.
Definitely bring some food! Even though you'll be stopping at local bars and restaurants, you won't want to waste your tour time sitting down for a meal or app.
Bring cash! You will want to tip your awesome driver as well as the bartenders that serve you at each stop. A 20% tip is customary for our guides.
And, don't forget to bring your photo ID.
What About The Weather?
We run rain or shine as we can dress according to the weather. Some of the most fun tours we've had were during thunderstorms. The roof of the bikes provides a great canopy and shelter from the rain. (We do reserve the right to cancel tours due to dangerous weather, i.e. hail, lightning.)
What To Wear
The key word for the vehicle is CASUAL. High heels are not the best idea and can hinder your pedaling capabilities. Comfortable clothes you don't mind getting a little sweaty in are perfect.  We do not suggest jeans in the summer!
If it's cool, wear layers.
Who Is In Charge?
We provide the driver for all tours. His or her decisions are final. Unruly passengers may be asked to leave.
You decide when and where we stop. Each stop is about 20 minutes long.