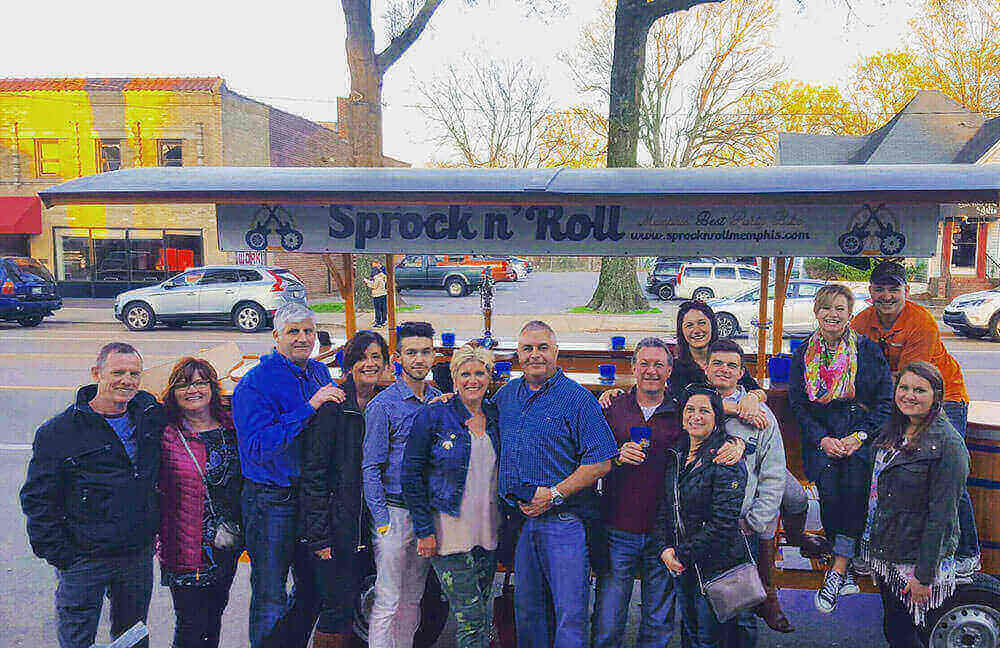 Grab your gang and plan an amazing Memphis birthday celebration!
Looking for a fun way to have a Memphis birthday party? Birthday parties are by far our most booked event – for good reason! We can't think of a better way to celebrate one more year on this earth than pedaling with your friends and a cold drink in hand. Celebrate your or a friend's special day with cocktails on our bikes. Decorate the bike to your heart's delight with street appropriate decorations. During this fun excursion, your party will stop 2 – 3 times at local bars to take advantage of our awesome bar specials exclusive to Sprock n' Roll customers. Raise your glass and celebrate the birthday boy or girl in style. Book now to get your Memphis birthday party started!
Whether you're a local or just visiting our city, Sprock n' Roll's party bikes are a fantastic way to spend a special day with your friends and family  while cruising the streets of Memphis.
Our party bike tours are ideal for all occasions—adult birthday parties, private parties, bachelor/bachelorette parties, family reunions, pub crawls, corporate special events, theme parties and more—but especially birthday parties. If you enjoy bike riding, adventure, sightseeing, and having a good time, you can't afford to miss a Memphis bike tour. Stock up on your favorite drinks and celebrate while you and your guests pedal through the streets of downtown Memphis.
How It Works
Drinking and pedaling may feel like a precarious idea, but there's nothing to worry about as a licensed bike operator does all the steering. Guests sit comfortably on stools attached to each side of the bar, with a set of pedals below for everyone to get the bike rolling.
Our beer bar bike accommodates 5-16 passengers, so you can invite all the friends and family you'd like. If you have additional guests attending the party bike ride, we have an extra seven bikes at your disposal with enough room for up to 120 people.
You may want to customize the party bike to celebrate your birthday. Whatever your plan, we're flexible and ready to help. From creating fun posters for the bike, to drinking games and photo ops, there is so much you can do to personalize your event.
Each party bike is equipped with speakers, so make sure you have a playlist ready to get everyone into the groove. We provide ice, cups, and a cooler, so bring your drinks, cupcakes and all your preferred birthday snacks.
Explore Memphis With Our Fun Pedal Party
Tourists from near and far flock to Memphis to enjoy the beautiful scenery, vibrant music scene, and historical sites. With our bar bike rides, guests get a visual tour of downtown Memphis that serves as a wonderful backdrop for your private party.
With the option to tour Downtown you're sure to enjoy some exciting sights in the heart of the city. For this 2-hour adventure, you'll pedal past the Peabody Hotel, AutoZone Park, Fire Museum, Civil Rights Museum, Memphis Riverboats and other sights.
You will have the chance to stop at popular local bars along the way, many of which offer drink specials for the party bike. Needless to say, most bar stops on a Memphis bar bike tour will have live music for you and your guests to enjoy. Prepare to celebrate your birthday in style as you bar hop through the venues where some of music's most iconic names got their start.
Enjoy a Unique Party Bike Experience
What's more fun than sipping cocktails in the open air while listening to your favorite tunes as you cruise around town with friends and family? Gather your crew, book a ride and take your birthday party to the next level with Sprock n' Roll.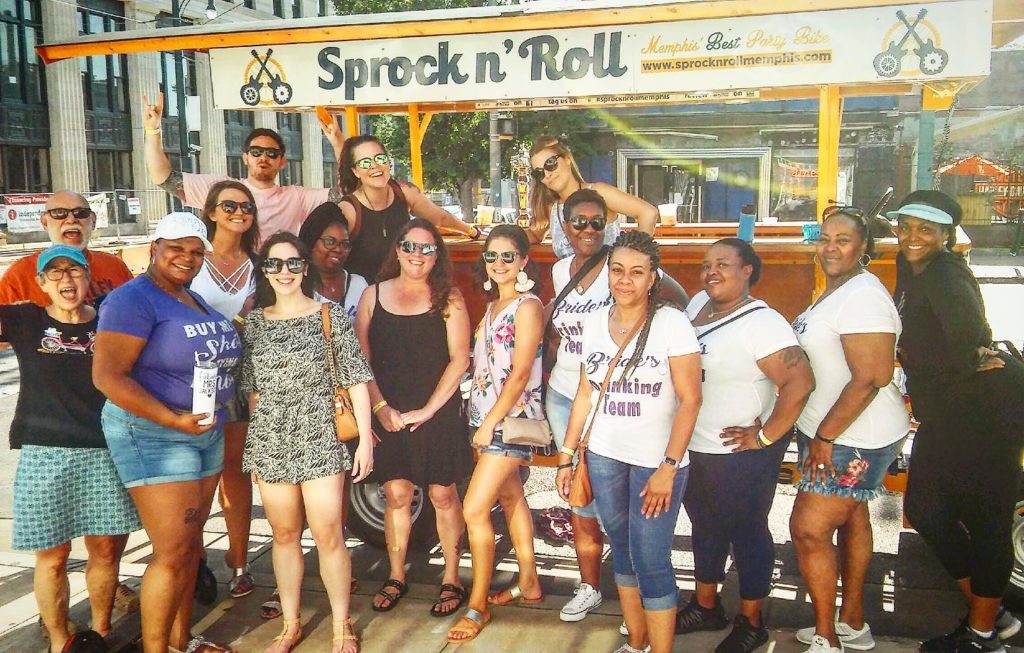 Downtown Route
Book Sprock n' Roll's pedal taverns to experience the best party bike tours in Memphis. Pedal your way through Downtown, Memphis and soak in the sites and sounds during this 2-hour ride. Enjoy delicious beverages at each of our bar stops and/or choose to take the scenic route to drink what you brought.  Begin and [...]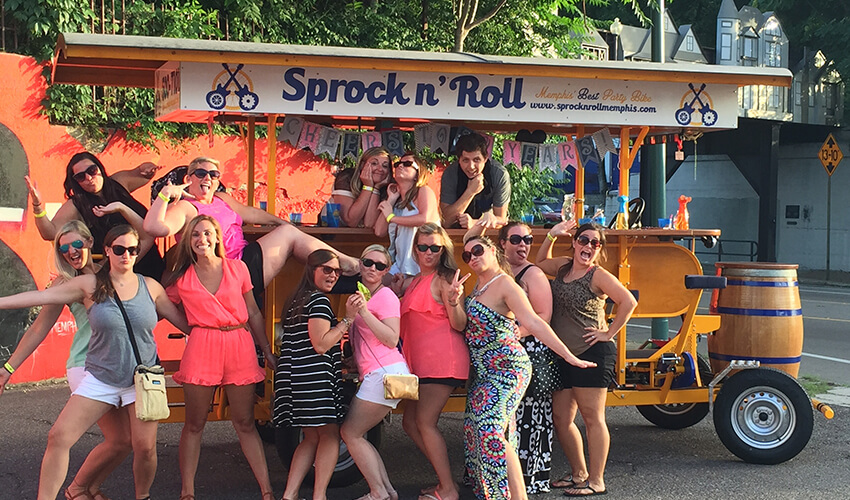 Midtown Route
Hop on one of the best party bike tavern tours in Memphis! Begin and end this 2-hour tour on the edge of Overton Square. Pedal our pub crawl beer bikes through Overton Square and Cooper Young in Midtown Memphis and bounce in a few bars along the way. Check out why the locals LOVE Midtown. [...]
3 Memphis Birthday Party Tips
Is your birthday posse bigger than you expected? No sweat, it is possible to book more than one bike at once! Join us on multiple bikes and throw the huge birthday party Memphis can be proud of!
Bring the birthday person's favorite drink on the bike for everyone to share a birthday toast! Feel free to bring a pre-mixed cocktail in a plastic pitcher to get the birthday party started.
Plan out your dinner reservations based on what route you take! We don't want you to have to rush to the next birthday activity – and there are tons of great restaurants for big groups at all tour ends! Plan accordingly or your stomach will regret it…