Hit the town with your girl squad!
From bar-hopping to nightclub outings, girls' night out is always much needed and an absolute blast! What better place to have a fun-fueled time than in Memphis? Rooted in rock n' roll and southern flair, Memphis is the idyllic setting for a gals gathering. Whether you choose a Downtown Route or a Midtown Route for your "gal time," Sprock N' Roll shows you the liveliest parts of Memphis for a guaranteed good time.
From good eats to catchy jams, there's much to celebrate in this city of soul — and lots of great girls' night out ideas. No matter if you're hosting a ladies' night on the town or commemorating the bride-to-be, our Memphis party bike rides cover a wide variety of celebratory occasions. From booze-filled pedal parties, to tasty hair of the dog brunch selections, there's an option for all party-goers.
To guarantee that a good time is had by all, give us a call and we can help orchestrate your girls' night out based on your preferences and to ensure that you and your friends create lifelong memories. Whether you fancy downtown booze and/or food rides or painting classes, we're confident that you'll love the options we offer at Sprock N' Roll.
Girl's night out ideas for the fun-lovers of Memphis
Isn't it true that "girls just wanna have fun?" It's about time to reconnect with your girl squad and let loose! Sprock n' Roll party bikes are a blast and there is no better girl's night out ideas to get all your girls together in one place and celebrate.  Whether it's an engagement celebration, a new promotion party, or just a night perfect for celebrating friendship, Sprock will deliver the excitement and fun. Grab your girls, some great jams, and your favorite drinks – this pedal party is one your girlfriends will be talking about for a long time!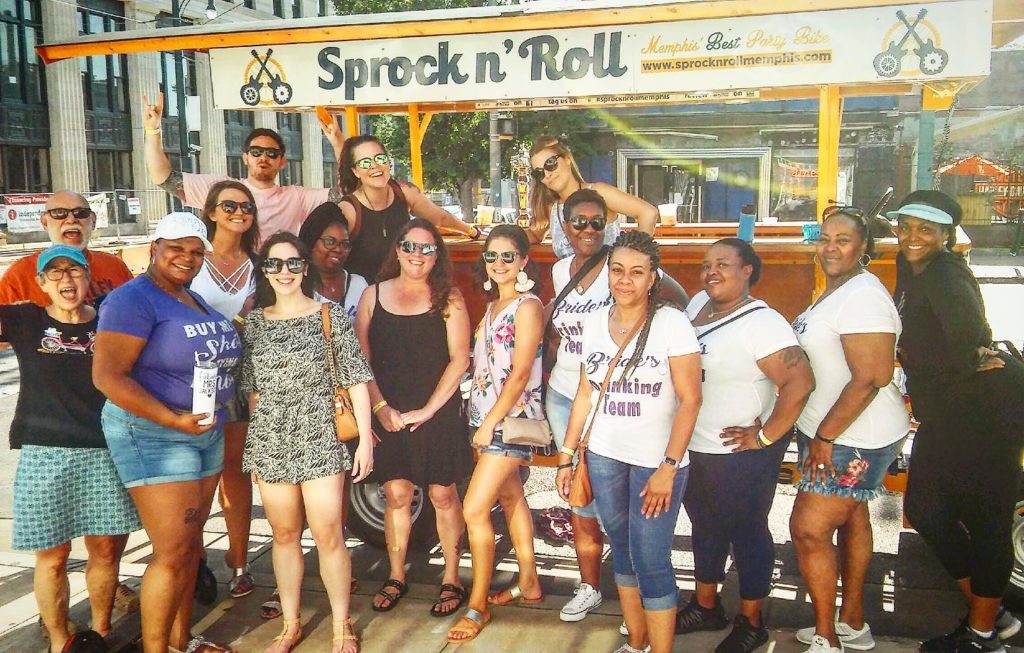 Downtown Route
Book Sprock n' Roll's pedal taverns to experience the best party bike tours in Memphis. Pedal your way through Downtown, Memphis and soak in the sites and sounds during this 2-hour ride. Enjoy delicious beverages at each of our bar stops and/or choose to take the scenic route to drink what you brought.  Begin and [...]
Tips For A Memphis Girls' Night Out
Pick one of your gal pals to control the radio with a playlist all can enjoy and sing along to. That way, your group's favorite jams can be bumpin' the whole tour!
For a fun and creative Girl's Night Out idea, try out our Artsy-Fartsy tour! Enjoy wine or cocktails while painting or creating pottery!
Keep in mind with this Memphis activity you should leave the dress and stilettos at home! Comfort is the name of the game with a party bike tour.
It isn't Girl's Night Out if it doesn't include a great squad photo – our drivers double as photographers! Take advantage of them for the perfect insta!