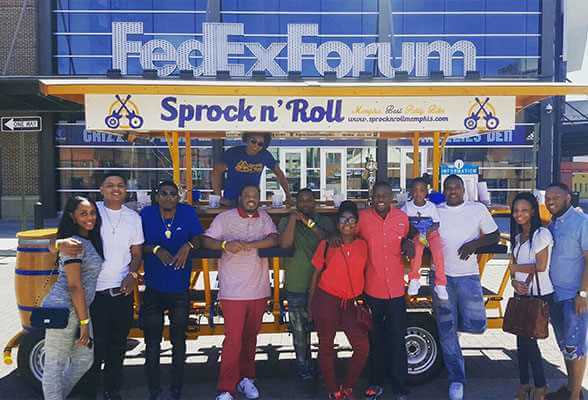 About the sprock n' roll party bike
A Sprock n' Roll party bike is a 16 seater bike that is human, party and pedal powered and is equipped with a motor assist. Other terms for these pedaling contraptions are pedal tavern, mobile bar, bar bike, beer bike, pedal pub, cycle pub, trolley pub, pub crawler, pedal wagon, etc. No matter which term you prefer, Sprock n' Roll is your ticket to one of the best parties and celebrations you have ever experienced!
Tour Details
Hop on one of our bikes with your beverages (alcoholic or non-alcoholic) and take a 2-hour ride through the City of Memphis. A Sprock n' Roll guide/driver will be your designated driver and will keep your party going.
While on Sprock n' Roll pedal taverns you will be pedaling about 50% of the time and either bar hopping or enjoying scenic locations 50% of the time. Most groups stop 2 – 3 times for cocktails at bars or at scenic locations for a break and picture taking.  We are happy to recommend bars to your group, but unlike other tours, where we stop is up to you!
You must be 18 to ride and 21 to consume alcohol on our private rentals and 21+ to ride our public rides.
What to bring:
BYOB – Aluminum cans and boxed wine are permitted.  No hard liquor is allowed

unless

premixed & in a plastic container. NO GLASS PERMITTED!
Playlist (hook up via bluetooth)
Photo ID
Water
Check out our Tips for First Timers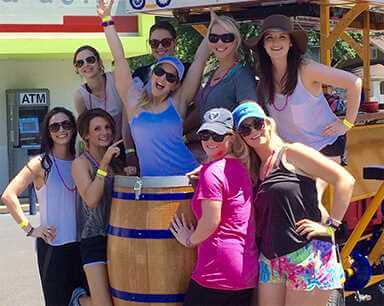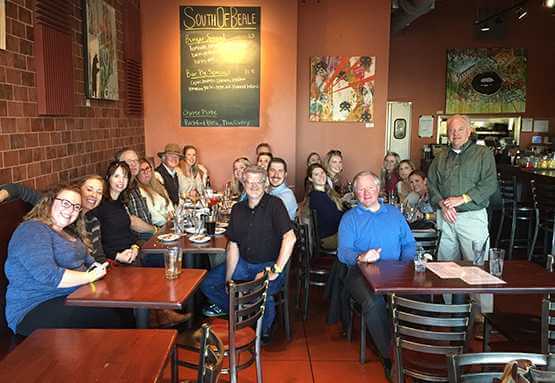 Other Details
Sprock n' Roll offers routes in Downtown, Memphis. We also have seven bikes at your disposal if your party is larger than 16. With the rental of two bikes, we can accommodate up to 32 people, 48 people with three bikes, 64 people with four bikes, and 80 people with 5 bikes, 96 with 6 bikes and 112 peeps with all 7 bikes.
Sprock n' Roll beer bikes are the original party bikes that have been operating in Europe for over 17 years. We provide a group activity similar to a party bus, but the vehicle is pedal-powered by you and all your friends. We provide a safe, fun and ridiculous way to pub crawl, celebrate a birthday, bachelor or bachelorette party, weddings, corporate entertaining, you name it!
What if i don't want to stop at the bars or i don't drink alcohol?
We will make some pit stops to give everyone a break and a chance to use the restroom. You can choose whether you want to visit bars or keep it scenic during the checkout process.  We offer you the choice as some folks like the bar scene and others want to enjoy the bike and the beverages they brought for the experience.  THIS IS YOUR TRIP! We realize not everyone drinks alcohol, so please don't worry if bar hopping isn't your thang. We can accommodate you! You can get non-alcoholic beverages at stops and/or we can work with you on great places to visit during your party bike ride.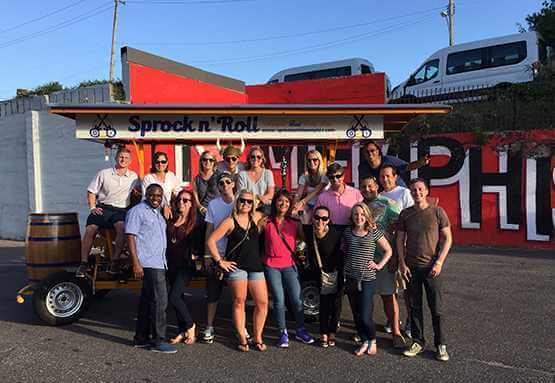 Office Hours:
MON – FRI. 11 AM – 5:30 PM
|

 SAT/SUN. 10 AM – 9:30 PM
Operating Hours:
SUN – SAT. 10 AM – 10:30 PM