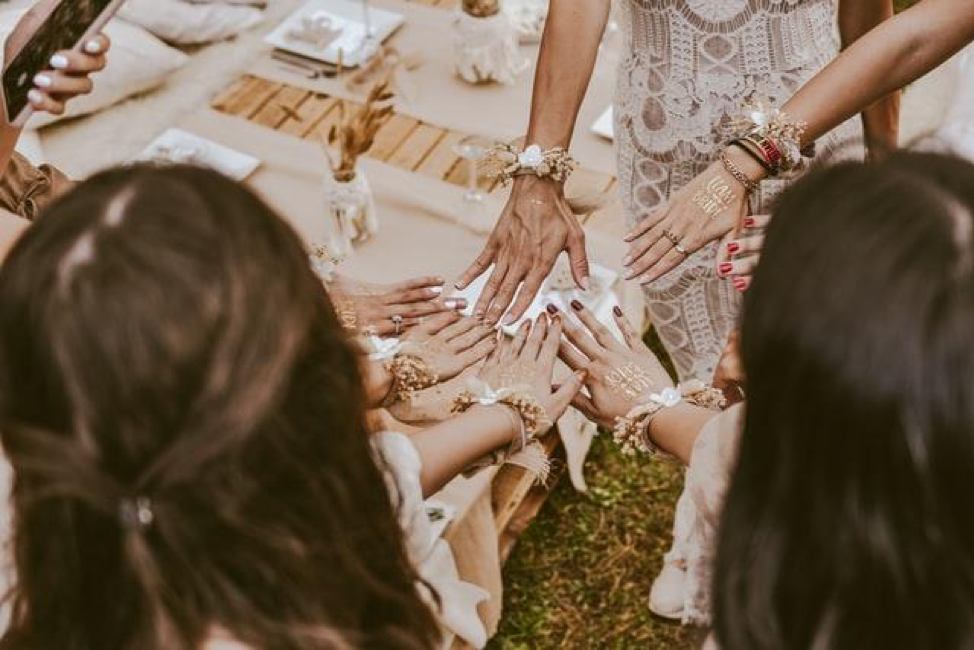 Every little girl dreams of her wedding day, but getting hitched doesn't mean that the fun has to stop. Whereas the guys have their famed stag nights, women can have just as much fun, well, frankly MORE fun with a Sprock n' Roll party bike ride around Downtown, Memphis. Sprock n' Roll bikes are motor assisted 16 seater bikes that allow you and all your friends a sweet opportunity to roll around the town to the tune of your favorite songs and the accompaniment of your favorite drinks. You literally pedal while you party!  Let our trained drivers take you along the entire two-hour long scenic trip or choose the pub-crawl during checkout if the bar scene is your thang. Our drivers can even double as professional photographers to help you better capture the moments that matter to you.
The party bikes have the added benefit of being customizable, making them perfect for the bachelorette party of your dreams. You can decorate the bike ahead of time with personalized decorations that matter to, or will embarrass the bride to be. The music and drink selection can be chosen and pre-loaded ahead of time as well, making for a night to remember that the bride and her closest friends will never forget.
Once you get on the bike, the bachelorette party has three options for how they'd like to spend the evening. Bring yo' drinks and enjoy the scenic ride and/or hit up some bars to feel the local vibe.  You can choose our scenic ride, pub-crawl, or a bit of both!  What could be better than singing, pedaling, and drinking around town with all your closest friends? If a pub-crawl isn't your bride to be's jam, our scenic ride is just as fun. We get it, you brought your own drinks, why go into the bar?  You don't have to!  The scenic ride will also take a few breaks for photos with amazing views and or course, we know everybody will need a trip to the ladies room at some point (to powder your nose of course).  No matter which option you choose (don't worry, what you pick during check-out isn't final, you can always change your mind, just let your driver know when you board the bike), your driver will take you on a dream-like tour through the Downtown area that will let you and yours see all the best sights in historic, Downtown Memphis. Soak in the sights, the fresh air, and all the cocktails you can drink as you make a grand splash around town.
Why put the time, money, and stress into planning the bride to be's big night out at a venue, that you may not even get on time, when you could plan a night on the town on Sprock n Roll's famed party bikes? Our bikes can accommodate up to 16 of the bride's closest friends and family, with the option to rent an additional bike for larger bridal parties. Our bikes have the additional benefit of being relatively inexpensive, especially when compared to comparable venue rental rates for similar amounts of time. Roll around the town with the bride to be ahead of her special day, creating memories that will cement friendships and last a lifetime. Sprock n' Roll is available for booking all year round and on shorter notice than most venues. Schedule your boozy bachelorette ride (snacks welcome) around the Memphis Downtown core today!
Want to add food to this rodeo?  Check out our Brunch Tours that are offered on Saturday and Sunday mornings!  They are an excellent way to rid yourself of that hangover… hair of the dog, right?