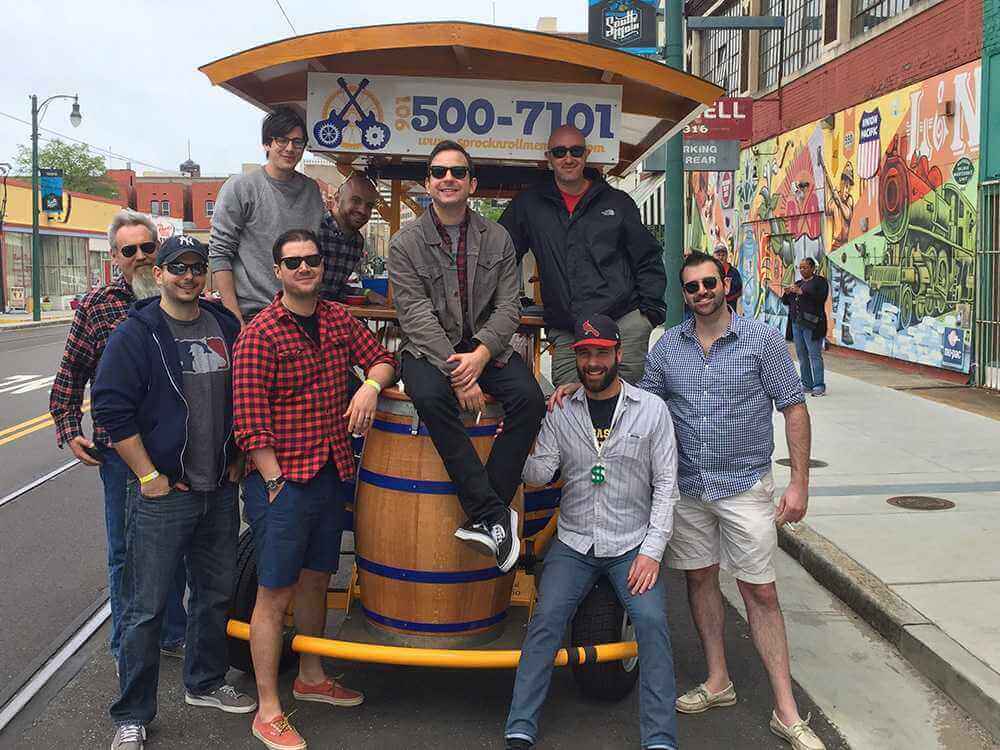 Planning a Bachelor Party via Party Bike in Memphis
If you've been given the honor of being the best man at your friend's wedding, then you've also been tasked with throwing him an amazing bachelor party. Let us help you find a creative solution to the hard task of planning a memorable event. Our party bikes are the perfect way to celebrate before the big wedding day.
Our open-air party bike design holds from 5-16 guests, so you can invite all of the bachelor's closest friends. You can make it a themed party by bringing your own adult beverages, street appropriate decorations and music. Make it even more memorable by creating games and giving your guests party favors, so that they'll never forget the social event of the season.
Before your buddy takes a walk down the aisle, you need to get him out on the town for that last hurrah! We can help you achieve that goal. Take a party bike tour on a pub crawl or scenic ride through some of the coolest parts of Downtown, Memphis, like South Main, Main Street Mall, Front Street, and the High Point Pinch District where party-goers can socialize, drink and celebrate.
Your friends will be impressed and excited to join in the fun. As a passenger on the party bike, your guests will attract the attention of people on the street, especially the ladies. As your party bike treks through the busy streets of Memphis, your soon-to-be-ex-bachelor bud can relax and have fun before he ties the knot.
We take the hassle out of party planning. You won't have to book a room, bring food or clean up. Just bring your favorite drinks and music, plan on getting home via Uber, and let us do the rest.
Contact us today to get started planning a bachelor party via party bike in Memphis that your friends will never forget!
Get ready to throw an amazing Memphis bachelor party for your mate
Are you hosting or looking for a fun event for a Memphis bachelor party? Look no further than the best and most exciting bar crawl on the Memphis streets.  Memphis Bachelor parties are becoming one of our most booked events because there is no better way to have your wedding party and friends all together in one spot! BYOB for two hours of pedaling and partying. You can choose to stop at 2 – 3 different bars for a shot or cocktail and a chance to raise your glass to the groom or take care of your business on the bike during a scenic tour of music, libations, pictures and party. Who knows, you may never see him on the bar scene again after those wedding bells have rung. Street appropriate decorations are not only welcome but encouraged! get ready to give your lucky mate the best Memphis bachelor party to celebrate his last moments of the single life!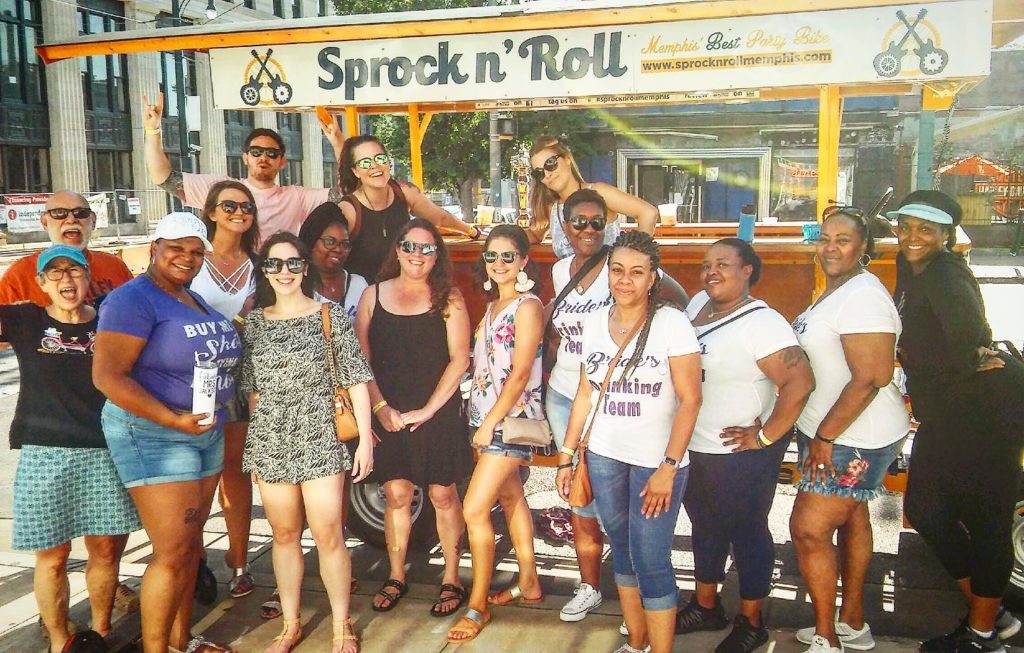 Downtown Route
Book Sprock n' Roll's pedal taverns to experience the best party bike tours in Memphis. Pedal your way through Downtown, Memphis and soak in the sites and sounds during this 2-hour ride. Enjoy delicious beverages at each of our bar stops and/or choose to take the scenic route to drink what you brought.  Begin and [...]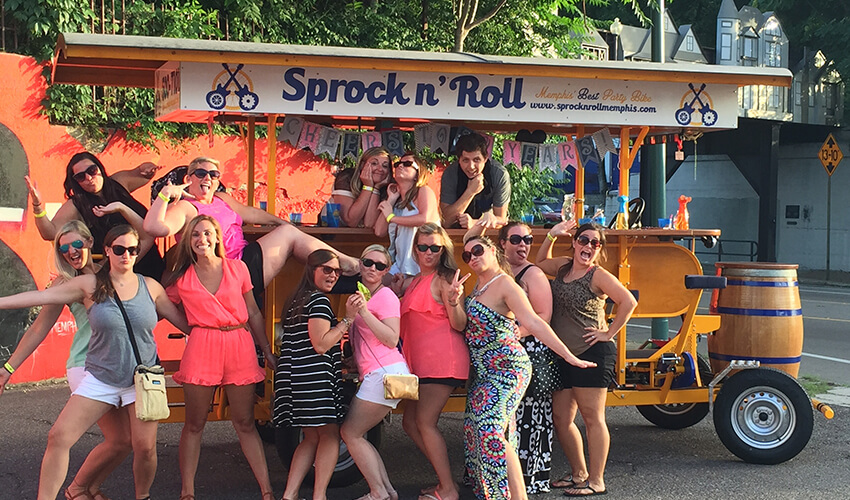 Midtown Route
Hop on one of the best party bike tavern tours in Memphis! Begin and end this 2-hour tour on the edge of Overton Square. Pedal our pub crawl beer bikes through Overton Square and Cooper Young in Midtown Memphis and bounce in a few bars along the way. Check out why the locals LOVE Midtown. [...]
3 Tips For Planning a Memphis Bachelor Party:
Don't drink too much before! We all know it's going to be a crazy night but let's pace ourselves, right? We have a lot to tackle during a Memphis bachelor party – and it's a marathon, not a sprint.
May we suggest Beale street for the best female social scene? See what kind of game you and your friends have flirting with some great girls also out for a night of fun!
Be ready to shell out for an Uber at the end of the night – nobody is going to want to be the DD during a Memphis bachelor party. Get home safe and sound after a great night!