Memphis Sunday Activities That Are Sure To Please The Weekenders
Who doesn't love a good ole Sunday Funday? Whether day drinking or some fun in the sun with your pals is your jam, our bikes are your ticket to some seriously fun Memphis Sunday Activities! Pedal and party for two hours. Stop 2-3 times at local establishments to take advantage of our exclusive bar specials. Plan your stops around the Sunday fun you want to see – whether that's bars, brunch spots or more! Take advantage of your last day of freedom before the work week starts again. A Sprock n' Roll Sunday Activity should be on your next weekly agenda!
Downtown Route for a 2-Hour Party Bike Ride
The Downtown route is a two-hour party bike ride through Downtown Memphis. You can stop at different bars, or you can take a more scenic route and enjoy the river-front view while sipping your cocktail. The private route starts at Robert Church Park, which is located at Beale and 4th street, while the public route starts behind Tin Roof, which is located at 315 Beale Street. If you want to make stops, you can stop at bars, listen to live music at a blues club, play some bar games, take selfie by the river, and more. It's always a good time to have an amazing Sunday in Memphis.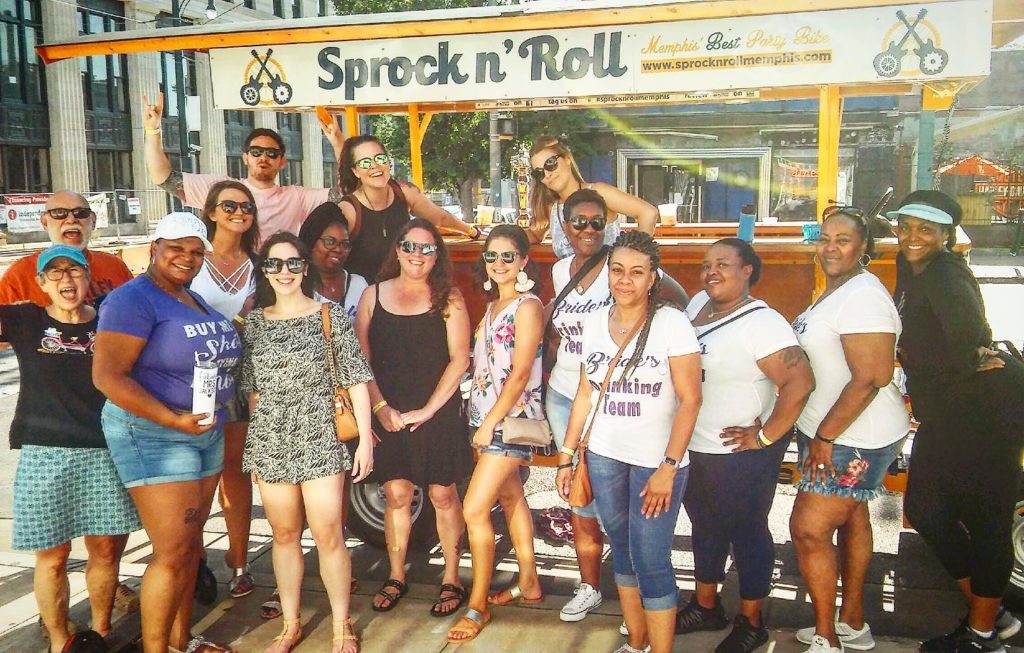 Downtown Route
Book Sprock n' Roll's pedal taverns to experience the best party bike tours in Memphis. Pedal your way through Downtown, Memphis and soak in the sites and sounds during this 2-hour ride. Enjoy delicious beverages at each of our bar stops and/or choose to take the scenic route to drink what you brought.  Begin and [...]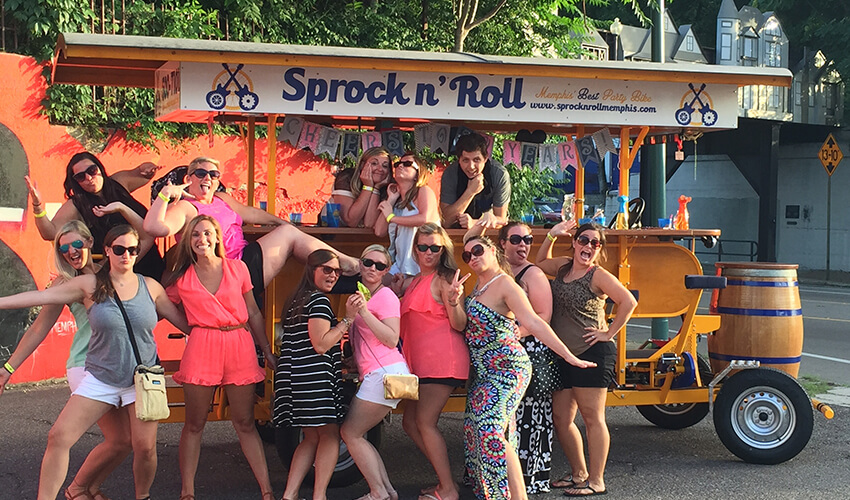 Midtown Route
Hop on one of the best party bike tavern tours in Memphis! Begin and end this 2-hour tour on the edge of Overton Square. Pedal our pub crawl beer bikes through Overton Square and Cooper Young in Midtown Memphis and bounce in a few bars along the way. Check out why the locals LOVE Midtown. [...]
Tips For A Memphis Sunday Activity:
Every great Memphis Sunday activity involved food, one way or another. Want to combine fun and food? Try out our Memphis brunch tours! This is a great way to recover from Saturday night while still making the most of your Sunday!
Take advantage of the bloodies that some of our stops sell! Not only are they truly impressive complete with yummy snacks stuffed in, they are also a sure hangover fix – hair of the dog!
Don't want to buy the bloodies? Make them in advance and bring them along! This also works for mimosas – whatever your day drink of choice may be!
Perfect Downtown Memphis Outdoor Activities to End Your Sunday
Downtown is filled with live music and entertainment as well as food, drinks, and craft vendors. Memphis is also home to some of the best festivals in the country as well as soulful music, art, and culture. It's also a city with a lot of diversity, so there are plenty of ways to have a great time here!
Whether it's enjoying the sounds at one of the many live music venues or just having a Bloody Mary with friends, no day in Memphis is complete without a little bit of fun and relaxation. Join Sprock n' Roll for your next Sunday Funday and see what the buzz is about!