Book Sprock n' Roll's pedal taverns to experience the best party bike tours in Memphis. Pedal your way from Beale to Main and soak in the sites and sounds of Downtown Memphis in a whole new way. Whether you want to have a Kamikaze or Shot of Fireball at BarDog or have a taste of Moonshine at Blind Bear Speakeasy, we have options that won't disappoint! Begin and end your journey at Tin Roof on Beale. On our Memphis party bike tours, the party doesn't stop. Still have questions? check out our FAQ page!
PRIVATE TOURS:
You buy the entire bike, which can accommodate 6 – 16 people. Split these prices up by how many riders you have and you will get your per person pricing.
Pricing can vary based on season.  Click the Book Private button below to get most up to date pricing.
$250 Tuesdays
$299 Mondays, Wednesdays, Thursdays & Sundays
$299 – $365 Fridays
$325 – $405 Saturdays (check out our Brunch Tours offered on Sat. & Sunday mornings)
MIX N' MINGLE TOURS:
This option is for smaller groups that don't meet the 6-person minimum to pair up with other smaller groups.
$25/person Thursday & Sunday
$32/person Friday & Saturday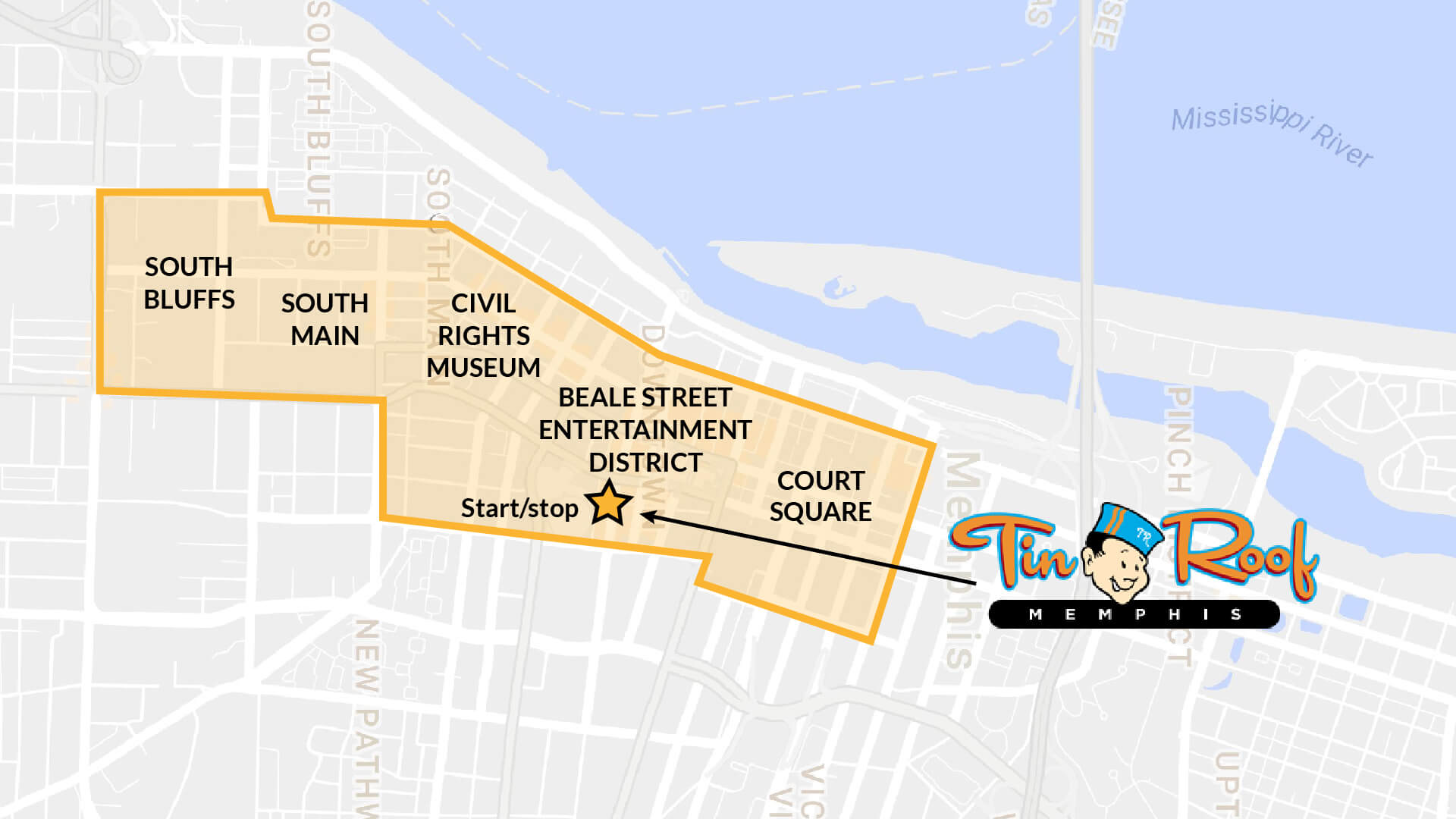 What To Bring?
NO GLASS, NO EXCEPTIONS! The City of Memphis prohibits glass on these bikes.
Bring anything you'd like to eat or drink. Beer, boxed wine, cider and liquor are all permitted. Sprock n' Roll will provide cups as the City requires all alcohol be in a cup.
Definitely bring some food! Even though you'll be stopping at local bars and restaurants, you won't want to waste your tour time sitting down for a meal or app.
Bring cash! You will want to tip your awesome driver as well as the bartenders that serve you at each stop. A 20% tip is customary for our guides.
And, don't forget to bring your photo ID.
What About The Weather?
We run rain or shine as we can dress according to the weather. Some of the most fun tours we've had were during thunderstorms. The roof of the bikes provides a great canopy and shelter from the rain. (We do reserve the right to cancel tours due to dangerous weather, i.e. hail, lightning.)
What To Wear
The key word for the vehicle is CASUAL. High heels are not the best idea and can hinder your pedaling capabilities. Comfortable clothes you don't mind getting a little sweaty in are perfect.  We do not suggest jeans in the summer!
If it's cool, wear layers.
Who Is In Charge?
We provide the driver for all tours. His or her decisions are final. Unruly passengers may be asked to leave.
You decide when and where we stop. Each stop is about 20 minutes long.