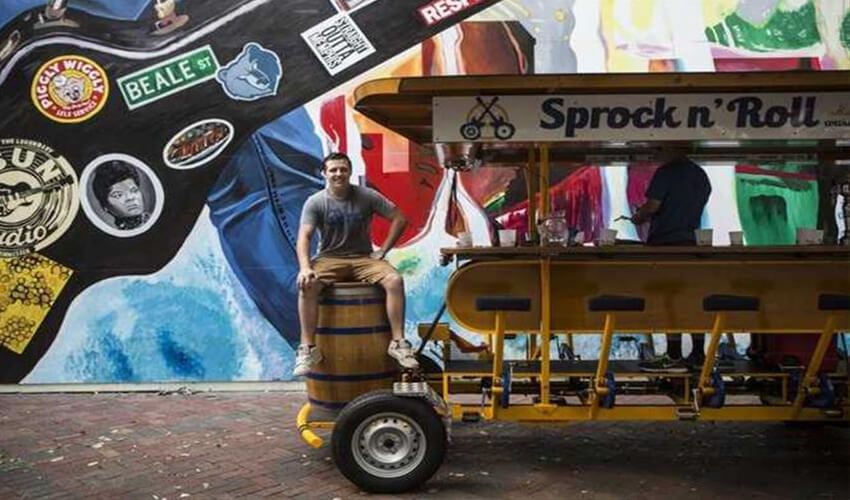 Tourism experts want local bartenders, hotel housekeepers — even the guy who bike pedals guests on a mobile bar — to use that question to start a friendly conversation with the 10 million visitors who pour billions into the city each year.
Welcome to Memphis, a nonprofit affiliate of the Memphis Convention and Visitors Bureau, hopes to bring the city's 35,000 hospitality industry workers into the fold to promote Memphis' history.
They want stakeholders who benefit in all levels of the tourism sector to ramp up their knowledge and enthusiasm for the Memphis area.
After tourists visit Graceland or walk around the Beale Street Historic District, they typically ask anyone they encounter, "What else is there to do?"
Plenty.
That's the quick answer the employees hear when they attend a training series called "Memphis Insider." Welcome to Memphis recently started offering courses to hotels, restaurants, tourist attractions — anyone with a stake in seeing the annual tourism spending rise from the current $3.2 billion.
"The course was built to equip guest-contact workers with a deep base of knowledge about the neighborhoods, sites, food, culture, tourism, and fun to be found here," said Mary Schmitz, executive director of Welcome to Memphis. "It's a crash course in everything that makes millions come to Memphis every year, and a means of making lasting positive impressions of Memphis."
Schmitz spends three days a week talking to hundreds of people who work in front and behind the scenes at places visitors frequent.
A week ago, she spoke at the Embassy Suites on Shady Grove in East Memphis. More than 60 staff members from the kitchen, housekeeping, sales, night audit and others departments filled the room. Each received a pass allowing them guest admission at 30 attractions in the city.
Schmitz hit the high points of Downtown Memphis with a 20-minute video that featured Tad Pierson who operates American Dream Safari. Along his tour, he picked up and dropped off experts who know something about every nook, cranny and cobblestone.
The cobblestones — the city began to place them in 1852 to accommodate the steamboat industry. Today, it's the largest original cobblestone wharf remaining in America with over one million cobbles.
A few blocks away, Pierson drove past the mansions in Victoria Village. President Teddy Roosevelt spent the night in one house before he went on a bear-hunting trip in Mississippi, Schmitz chimed in. There's a story behind the Teddy and the bear.
Those are details tourists can read about in magazines or listen to as part of a pitch for Memphis to host a convention, but it means more when a local person says it, she said.
"It doesn't feel like a sales pitch," Schmitz said. "It's someone who lives here, who is proud of their city and wants visitors to enjoy it too."
Embassy Suites general manager Ken Mendoza said there are so many more things to do here than he realized. He plans to take his family on expeditions soon.
"So much history, so many museums," Embassy Suites general manager Ken Mendoza said. "I want to go to Stax. I love that Music. That fire museum looks fun."
"There's so much bad press about crime and other things in Memphis," Mendoza said. "Gosh, we've got to fall in love with our city and everything it has to offer. People will see our enthusiasm, and it will spread. I'm excited about this."
The training session included emphasis on three foundation principles of the service culture: Smile. Welcome. Thank you.
Visitors hate indifference when they ask a question or voice a concern, Schmitz said.
"If you don't know, you can find out," Schmitz said. "It's something that make a big impression. You are going to any length that you can to help them. It makes them feel like you care And you should care."
An Embassy Suites room attendant received a $9 tip and praise from a guest who asked about things to do in the city. The recommendation: See the Fire Museum of Memphis and the Memphis Zoo.
Collin Stephenson, 23, moved to Memphis six months ago. He started working for Sprock n' Roll, a pedal tavern that makes it way using energy provided by patrons who sit at the bar atop a bike and pedal. Stephenson recently took the Memphis Insider course so he would have more to tell his visitors.
"I deal with oohs and ahhs and inquisitive faces all the time," Stephenson said. "WDIA! The first black radio station in the country. There's the (National) Civil Rights Museum, Graceland, Gibson Guitar, Stax. There's just so much to talk about. I've lived a lot of places, but I've never felt more at home in a city anywhere in the U.S. I feel the soul of this city. The heart of this city is so transparent."