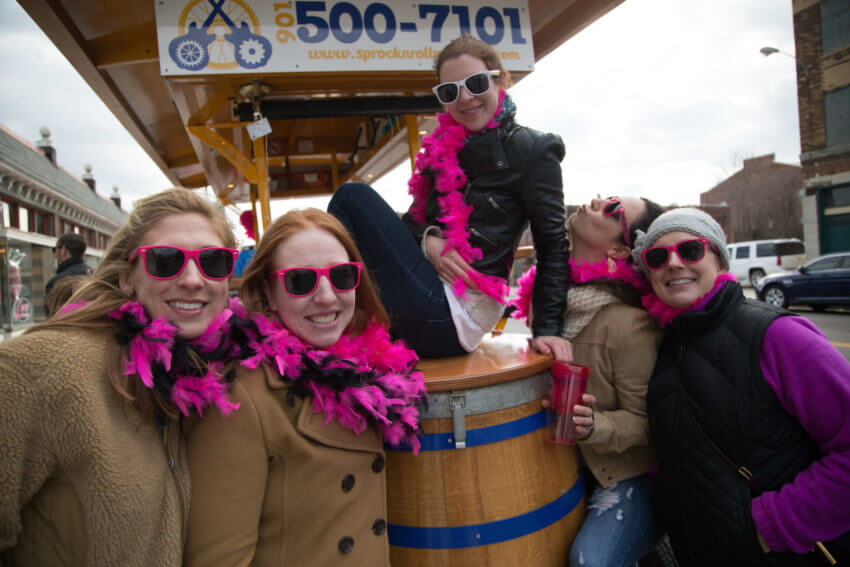 You may think that Memphis party bike tours are only a summer activity. Think again! Fall and winter party bike tours have some surprising benefits. For example, if you are planning a chilly weather pub crawl or a winter birthday/wedding celebration, our party bikes make the most of your commute from bar to bar all while keeping those legs pumping.
Pedaling keeps your feet, legs and body nice and toasty – you may even need to shed a few layers! On top of that, our Memphis party bike tours add tons of fun to the shorter fall and winter days – who says you can only have Memphis nightlife fun in the summer? To top it off, some of the best holiday celebrations happen in cold weather – host a Halloween costume haunted party bike pub crawl or an ugly sweater Christmas party bike tour! Our Memphis party bike tours don't have a seasonal expiration – so check out these tips to make the most of your chilly weather Memphis party bike tour. Stay warm out there!
Take Advantage Of The Daylight!
Try a day tour to take advantage of the warmer time of day! We offer weekend Brunch Tours and afternoon Flight and Brewery Tours so you can get your drank  on while you soak in the daylight.
Celebrate The Holidays On A Party Bike!
Book us for your next corporate or family holiday celebration! Take advantage of the fall and winter holidays in style. Dress up yourself, or our party bikes for your holiday celebration! We can even incorporate food into your event with our
Progressive Dinner Tours. We can host any party from 6 – 80.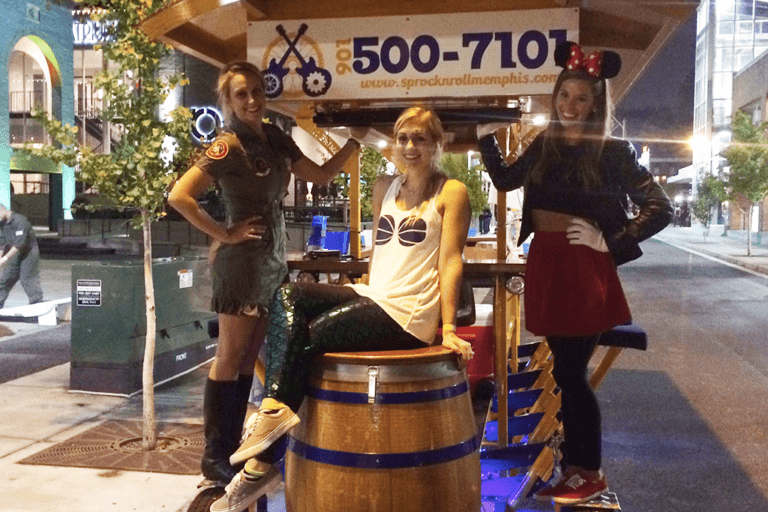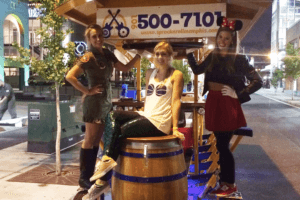 Bring Some Drinks That Warm The Soul
Bring along some delectable warm drinks to warm your fingers and your bellies while on our tour. From hot chocolate with peppermint Schnapps to spiked apple cider – we love our cold weather drinks. Bring a thermos of your favorite hot cocktail and you will realize that winter just may be the best time to enjoy a Memphis party bike tour.
Grab Your Dancing Shoes
Enjoy some of the best dancing spots in Memphis and thaw that body by hittin up the club to shake your money maker! Visit our bar partners that best known for great dancing music or live bands perfect for showing off your killer moves. Tin Roof Downtown and Lafayette's Music Room in Midtown will not disappoint with live music and dancing! Also check out Paula & Raiford's Disco for some late-night dance action.
         
Plan Your Exit Strategy
Make sure to have your DD or transportation ready to go right after the tour! There is nothing worse than standing around in the cold trying to figure out who is good to drive. Decide your exit strategy early to skip standing around! That way, no one drives drunk, and no one is left out in the cold. Literally!
Remember…
You will be pedaling, so your body will warm up nicely as you enjoy that chill breeze. Remember to bring some gloves and ear muffs to keep those extremities nice and toasty!
Ready to take on the winter with Sprock n' Roll? Book a Memphis party bike tour!