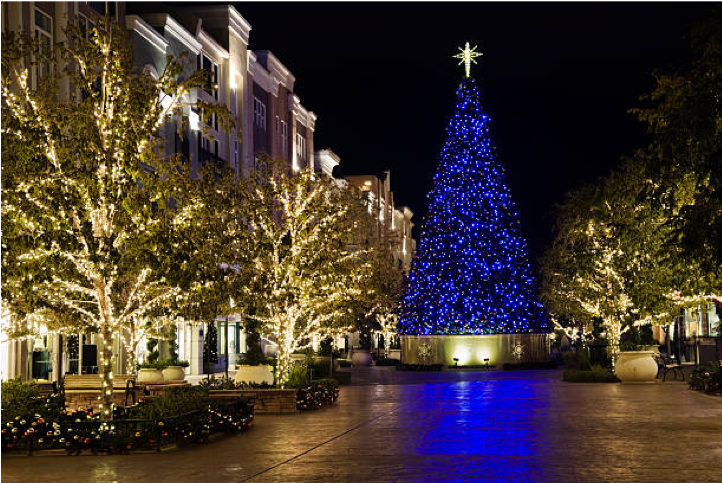 Memphis is humming with holiday cheer throughout December! The city is jam-packed with events that promise family fun and unforgettable time with friends. Check out these holiday outings taking place in Memphis this winter!
Memphis Zoo Lights
The mesmerizing Memphis Zoo light displays promise a magical evening out with family, friends, or someone special. During the holidays, the zoo successfully brings the North Pole to Memphis with an assortment of holiday-themed activities, treats, and more. Expect to see ice skating, a Ferris wheel, and a carousel; hot cocoa and other holiday goodies are served as well. Santa and his reindeer can be spotted on select evenings, and they're more than happy to take photos and gift requests!
Enchanted Festival of Trees
Located inside the Memphis Museum of Science and History, this local holiday tradition has held strong for decades. This elaborate Christmas wonderland is constructed by a talented team of professional designers, chefs, and other community members. The village contains gorgeous light displays, cleverly arranged holiday treats, and tiny trains chugging through miniature streets. The museum offers pictures with Santa for the kids, as well as film and planetarium shows.
Starry Nights in Shelby Farms Park
Shelby's Starry Nights brings the phrase "Merry and Bright" to life! Shelby Farms Park hosts this incredible annual fundraising event on most evenings through January 1st. The park is graced with millions of lights and elaborate displays; expect to see popular characters, Santa's reindeer, and other amazing exhibits. Hot cocoa and other holiday treats are served at Mistletoe Village, and local school choirs perform on certain dates as well.
Christmas Fiesta
This one-time event takes place on December 18th, and it's not worth missing! The Cazateatro Bilingual Theater Group and Opera Memphis host this outing to celebrate Latin American and Caribbean culture. Guests can enjoy cultural Christmas music and sample authentic Latin cuisine. There's even guided poinsettia and piñata-making activities! This year's Christmas Fiesta will take place at the Dixon Gallery and Gardens at 11am!
New Year's Eve on Beale Street (Ride with us!)
Beale Street is buzzing with excitement on New Year's Eve. Coined the "Home of the Blues," a giant guitar drops on Beale at midnight, instead of a traditional ball or globe. Pop in and out of Beale Street's bars, clubs, and shops before the famous guitar drops! Memphis is famous for its musical spirit, so why not kick off the new year with live music and dancing?
New Year's Eve at the Peabody Hotel
The Peabody is nicknamed the "South's Grand Hotel" for a reason‒it keeps its New Year's Eve tradition alive with an extravagant annual party. The lobby and mezzanine are decked out with live music and dancing. VIP tickets will unlock access to a private lounge, unlimited champagne refills, and endless food options.
Embrace the Memphis spirit this holiday season and join in on the fun! Grab some friends or family members and make lasting memories. The holidays only come around once a year–make the most of them!