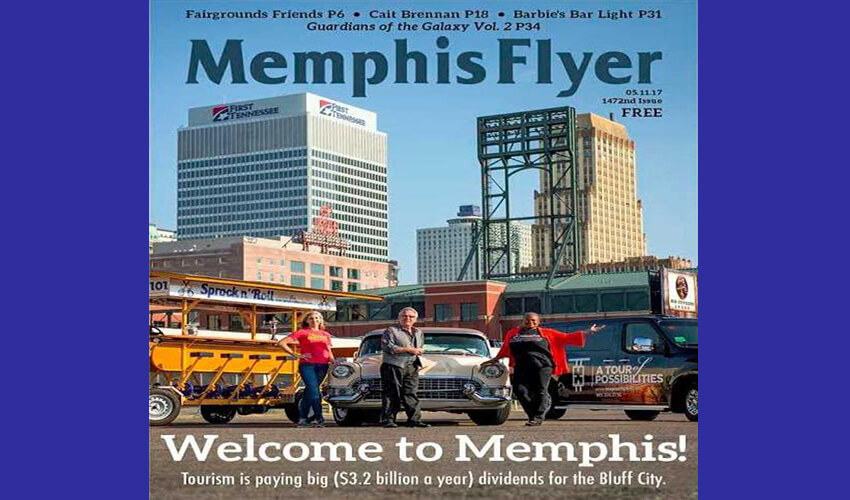 Welcome to Memphis!
Tourism is paying big ($3.2 billion a year) dividends for the Bluff City.
by TOBY SELLS
Sprock N' Roll
Call it a pedal bar, a party bike, a rolling tavern, a bar bike, or something else, but Ashley Coleman wants you and your friends to come try it.
Sprock N' Roll brought their party bike (let's just call them party bikes, okay?) to Memphis two years ago. Since then, hundreds have mounted the oversized bike seats and pumped the mobile bars around downtown or Midtown.
Not clear on the concept? Imagine a small bar with five bar stools on each side, a bench in the back — under a tin roof and on four wheels. A bartender hangs out in the middle, and a driver mans the steering wheel and brakes at the front. You and your friends provide the power by pedaling. The more people, the easier the pedaling.
Coleman said the company's most popular tours are two-hour pub crawls. But the company also offers an "Artsy Fartsy Tour" (which begins at the Art Project), progressive dinner tours, and brunch tours.
While most of Memphis' tourists stay downtown, Coleman said she tries to lure them to Midtown with a tour that rolls between Overton Square and Cooper-Young (and several bars en route). Coleman bills the tour as "where the locals like to go."
"Some aren't coming for the Beale Street party," Coleman said. "They want to see other cool parts of town. Many [tourists] aren't familiar with Midtown. We take them off Cooper down Rembert, and everyone enjoys seeing the houses. They'll say, 'We love this part of town!'"
Coleman said it's likely that more locals ride her party bikes than tourists, but plenty of tourists still ride through Midtown, she said, remembering a time a group of Australians rode down Cooper with a group of Iowans.
"They end up staying in that part of town," Coleman said. "They'll get off the bike and explore some more. It's a great way for us to get the tourists to Midtown and get them spending some money there."
May is a big season for Sprock N' Roll, Coleman said, noting that they have to work to make sure there's enough availability to meet the demand.
"It's just a fun way to see the city."