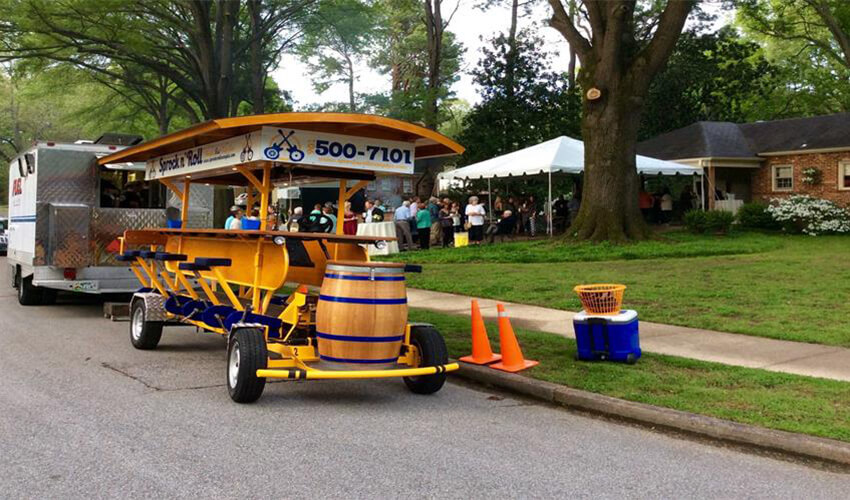 Throw a sheet over a table, add some bottles and glasses, and voilà — you've got a bar.
Or you could be more creative when you're planning your next party. Alternate ways of serving beer and drinks are available — from alcohol-dispensing vehicles to bodybuilder bartenders.
Instead of keeping up with a heavy keg that always seems to break when you're trying to tap it, let TapBox do all the work. McCauley Williams, 27, one of three TapBox partners, describes the vehicle as a 'mobile beer garden. It's a trailer, in essence. A walk-in freezer that we combined to a trailer. It's insulated.'
They currently have two TapBox trailers. 'One with eight beer taps and the other with 10. We're designing a device that can do 20 taps. We can store 25 kegs in each one. The whole idea with beer is to keep it refrigerated so it will last.'
Each keg holds around 150 beers, Williams said. 'So multiply that by 25, and you get a lot of beer. Thousands of beers.'
Williams and partners Justin Brooks and J. R. Kingsley built the company and formalized the design in 2015. Their first event was the Down to Earth Festival at Shelby Farms.
'It was an instant success,' Williams said. 'People loved it. We knew we were on to something.'
They've done large events, including Levitt Shell concerts. They also set up on the second Friday of each month at Fourth Bluff Friday at Fourth Bluff (formerly known as Confederate Park).
Williams loves to do 'pop-up beer gardens' at underutilized spaces. 'Using beer to bring people together. An underloved place that needs some TLC. Pull up and you instantly have a bar.'
They don't have a flat rate for private parties at people's homes, Williams said. 'We have to speak with each host and hostess, negotiate how many people they're going to have, what kind of beer. Every party is different. It's great for your party because we can bring eight different kinds of beer. Any kind you want. Eight different kinds or all the different local beers. A taste of Memphis with eight regional beers.'
A private house party needs to have a minimum of 100 people, he said. TapBox will provide at least two bartenders.
'We're actively trying to figure out how to incorporate wine with the private parties,' Williams said. 'We can do it if the host will just buy the wine and then we can serve it through our device. They can do 'keg wine."
Sprock n' Roll Party Bikes are another type of rolling bar that can be incorporated into private parties. Guests sit at a bar and pedal with their feet like a bicycle as they sip drinks and ride around the neighborhood. The party bike includes 10 pedaling seats and six non-pedaling seats. A sober, entertaining 'driver' steers, brakes and tells people when to pedal.
'It's all BYOB,' said Sprock n' Roll founder Ashley Coleman. 'Because we are mobile, the state will not allow us to serve or sell since we don't have a set location. We travel around. You can bring whatever you want — cocktails, wine, beer — as long as it's in a plastic or aluminum container. No glass.'
The 'group bartender' is a guest who doesn't want to pedal, Coleman said. That person stands on the long platform between the front and the back of the bike and serves drinks.
Coleman put her first party bike on the street June 1, 2015. 'I started in Midtown with just two bikes and branched out to Downtown.'
The cost of renting the bike at a custom location instead of using Sprock n' Roll's set Midtown and Downtown routes will vary based on date and location. The company also requires a three-hour minimum. Advanced booking is highly suggested, Coleman said.
Ginger Leeke rented a Sprock n' Roll Party Bike for five hours for her husband's surprise 60th birthday party. 'I really think it was the favorite highlight of the party,' Leeke said. 'Loads of fun.'
About 90 percent of the 115 guests rode the party bike, she said. 'I had bartenders and all that, so people just got on board with their drinks. She has keg hookups and all kinds of things on there. I didn't use all that because I already had that taken care of.'
If you want somebody tending bar at your party, but you don't want to use Uncle Eddie or your neighbor's kids, Memphis Bar Ties will fill the need.
With more than 20 years' combined restaurant and bartending experience, Lowell Hinte and Scott Boyd founded Memphis Bar Ties in 2014 'to provide a high level of professionalism and personality for the bar for any type of event,' Hinte said. 'We wanted to use our expertise to ensure that the bars we manage run smoothly by thinking through all aspects of the bar: drink menus, specialty cocktails, bar equipment, supplies, quantities, guest count, glass type, garnishes, mixers.'
They've done numerous private parties, but they've also worked large events, including the Children's Museum of Memphis' 'Cirque du CMOM', the 'Jockeys and Juleps Derby Party' for Southern Reins Center for Equine Therapy, Make-A-Wish Mid-South 'Wine for Wishes' and the Indie Memphis Film Festival.
They got the idea after noticing the 'typical event bar just seemed like a drunken relative passing out drinks,' Hinte said. 'Or a person in a black shirt and ABC card that appeared like they were forced to be there just to work. It lacked energy and seemed like an afterthought when in reality it's one of the most important aspects of an event.
'We want the bar to be tied in to the event. To be a bar that guests enjoy going to just like they enjoy visiting their favorite bartender at their local establishment.'
They 'take pride in hiring some of Memphis' more experienced and best personalities' as bartenders.
Hinte and Boyd often get behind the bar and pour. They want to 'raise the bar of the event bar,' Hinte said.
Guests at the recent Zoo Rendezvous at the Memphis Zoo probably noticed 'Buff Bartenders' Billy Bergschicker and Trent Wilkes serving drinks to people out of tubes from hydration packs attached to their backs at the Simply Delicious Catering booth. Wearing black pants and athletic shoes, Bergschicker and Wilkes, both body builders, were shirtless. (E-mail buffbartender@gmail.com for more information.)
Part of the criteria of being a Buff Bartender is being cut. 'Half of the guys actually do competitions and compete,' Bergschicker said.
Buff Bartenders includes about seven or eight guys who tend bar at events, including birthday parties and bachelorette parties, said Travis Brady, 24, with Buff Bartenders. It's all about entertaining the guests: 'Guys talk to us about work, growing up, when they were our age,' he said. 'Women ask if we've got a girlfriend.'
As for the guys being bare-chested at events, Brady said, 'Honestly, it's 50-50. It depends on the venue. We had parties this past Saturday. One was shirtless. One was not.'
Personality is a big part of being a Buff Bartender, Brady said. 'People expect some sort of entertainment out of you whether it's a smile or muscles showing out of your shirt.'
Attire ranges from white button-down shirts and jeans to 'nothing more than what you would see at the local beach.'
The bartender, Brady said, can 'either be the life of the party or the dud at the party. When you've got young, enthusiastic people behind the bar — especially ones that are easy to look at — it becomes a lot of fun.'