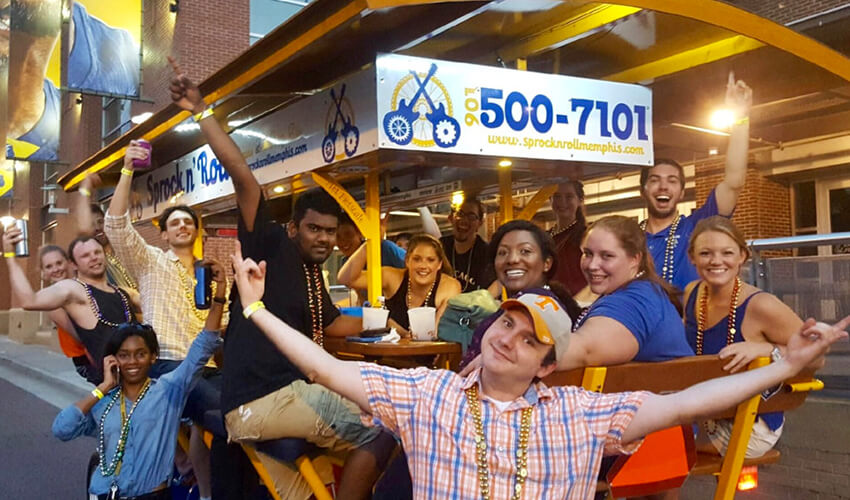 Memphis party bike tours are all smiles until someone falls off the wagon…literally.
Picture this, you are all jazzed up for a good time with your homies and can't wait to get a little sip of that yummy beverage you brought only to realize you brought all your beverages in glass and can't take them on board.  Talk about a BUZZ KILL!  We at Sprock n' Roll want you to have an unforgettable experience so read these helpful hints from your pedal tavern veterans to make sure you have the best party possible with Sprock n' Roll Party Bike!

Don't Be Late!
Don't leave us waiting in the rain, wondering if you'll ever show. We have our bikes operating back to back and pride ourselves on showing each group one hell of a time! You are buying 2 FULL hours of party bike entertainment, so please don't be late as this will cause you to miss out on some of the experience.  We are unable to extend your tour as another group is waiting for you to return to start their awesome ride! Please refer to your confirmation email to see what time to arrive to get checked in.  It takes a full 20+ minutes to check ID's, get waivers signed, load up beverages and begin the tour.  BE ON TIME!

No Glass On The Bikes!
The City of Memphis does not allow glass on the bikes… EVER! We are rule followers as allowing this could negatively affect our business; so don't even ask.  Does that mean you can't transfer liquid from glass to plastic prior to the tour?  Of course not, please do.  Our coolers stocked with ice will be ready to chill your aluminum cans and plastic containers for your drinking pleasure.  And remember, water is goooooood! So please bring some aqua to stay hydrated.

Drinking And Driving? Ummm… No.
Go ahead and leave those keys and that pimped out ride of yours at home. You don't need the temptation of having it around after a few sprocktails.  Uber and Lyft are available in Memphis and are the perfect alternative to driving with one eye after a day of drinking.  We want you to come back and see us, so please don't take any chances that could cost you your life and the lives of others.

Keep Those Jams Family Friendly!
We get it, this is an adult party and girls (and guys) just wanna have fu-un. However, we do operate in family friendly areas in both Downtown and Midtown.  Therefore, we can't have F-bombs dropping while folks are enjoying their meal on the patio or exploring Memphis with the fam. Explicit music will be turned off in these areas and turned off at stops as not everyone appreciates all music and we don't want to interrupt those conducting business on our routes.  So, please keep it PG!

It's Not The Inaugural Ball, But Let's Still Be Classy
Just a quick reminder on party bike behavior…
See #4 and keep those tunes PG
Lewd behavior and dancing on the bike will not be tolerated. Remember, if you're twerkin' then you ain't werkin' to keep those wheels a-turnin' and this party rollin'
You will need to use "the facilities" at some point during/concluding this ride after consuming beverages. Please use the indoor restrooms that all our bar partners offer instead of "slipping away" behind a dumpster or in an alleyway.  Just b/c you are a little buzzed doesn't mean you are invisible… we see you!
If you want to lovingly shout at folks we pass because you are having fun and they are shouting at you (usually saying PEDAL!!!) than please keep any comments light and airy. Any cursing or aggressive comments will NOT be tolerated.
The renter will be charged a $300 fine for certain transgressions that will be discussed on the bike and are on the Liability Waiver you sign. We don't want to charge any of our customers, but we will if negative, aggressive, or lewd behavior is observed.  (ex. Urinating in public, extreme intoxication, public nudity, etc)
In the words of Ron Burgundy… "You stay Classy" Memphis.

Tip Your Waitress And Driver!
Tips are not included in the bars nor for your awesome driver. Please bring some cash to show appreciation for those waiting on you in the bar and for the experience your driver shows you.  We only hire the best drivers so we assure you they will show you a fabulous time!
Last, but certainly not least, HAVE FUN!  This is your celebration so please live it up on our party bike tours and get ready to party!  Get ready to….