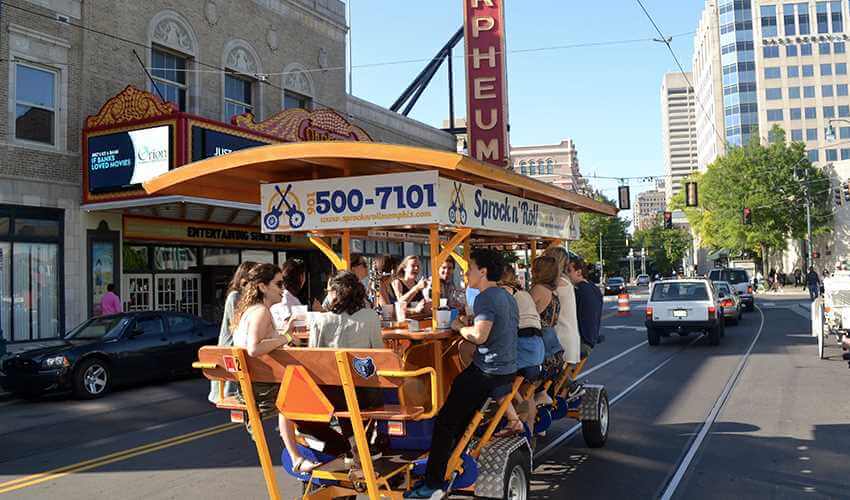 One of the best things to do in Memphis is to experience the roaring nightlife that we have at our fingertips. We at Sprock n' Roll like to consider ourselves Memphis bar crawl connoisseurs. Looking for some advice on how to make the best out of a Memphis pub-crawl? We have been training our whole lives for this. If you don't want to take on the responsibility of planning an epic Memphis pub crawl, hop on our party bike, sit back, sip, relax, and let us take care of everything!
Description: Tin Roof is about giving musicians a place to play and a place to hang when they aren't on stage. This awesome bar offers not only live music and yummy food on one of the most iconic streets in America, they also have an awesome late night party scene in their "green room." The green room has ping pong tables, giant Jenga and connect four by day and a DJ and dance club at night. You will not be disappointed by this venue's awesome atmosphere of music, cocktails, and good times. This is also a great place to watch "the game," as many big screens are located throughout for your viewing (and cheering) pleasure.
Recommendation: Tin Roof has a stocked full bar and offers excellent group packages to those wanting a little extra somethin, somethin for their celebration. Bachelor and bachelorette parties, birthday guys/girls, etc. can enjoy VIP access and exclusive drink specials for their party.
Tin Roof is the starting and ending location for our Downtown Route. Check in with us upstairs at Tin Roof in the Sprock n' Roll Lounge overlooking Beale Street, where games and a full bar are set up for your enjoyment. Receive discounted drinks and food when you ride with us, as well as free cover!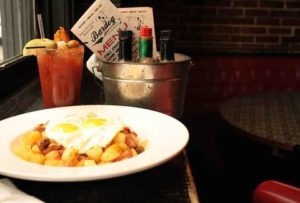 Desctiption: A true neighborhood bar in the heart of Downtown, Memphis with great food, late-night kitchen and lots of fun fueled by Jameson and cool bartenders.
Recommendation: BRUNCH! BarDog offers an absolutely delicious brunch with yummy bloody's and mimosas that can NOT be beat. Put a few dollars in the jukebox to hear your favorite tunes while you sip your breakfast cocktail and enjoy your delectable dish.  Note: This establishment in for 21+ and does allow the use of tobacco products in the upstairs bar (downstairs is non-smoking).
Sprock n' Roll has partnered with BarDog to bring you the Downtown Brunch Tour on Saturday and Sunday mornings. Feeling ruff after that late night out? Shake off that hangover with our brunch tour where you can fill your belly at a discounted price and get a little hair of the dog.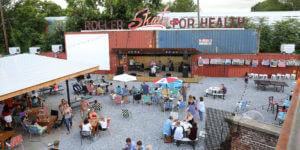 Description: So many options!  Ping-pong, sand volleyball, giant beer pong, live music, the Diner, the tiki bar… the list goes on and on.  This establishment is set on 1.5 acres quite literally on the "rail" line, in the heart of Midtown, Memphis.  Drinks are flowing and ping-pong competitions are fierce while live music sets the perfect tone for an afternoon of fun. This sprawling space is the perfect outdoor activity in Memphis for the kid in you and also kids if you have em'.
 Recommendation: The Outdoor Play Yard. Imagine people, pets, and kids run loose in an old Midtown rail yard.  There's always something going on, whether you're getting rum drinks from the tiki bar, catching live music or just watching the sunset with your buddies.  This is the perfect chilaxation environment for you!
 Railgarten in our starting and ending location on our Midtown Route and offers delicious discounted frozen drinks to those who ride with us! Hang out at Railgarten pre or post tour and enjoy the Midtown vibe.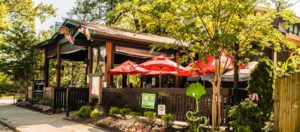 Description: Celtic Crossing is located in the Cooper-Young District, which is a happenin' place in Midtown, Memphis! This Irish bar is a neighborhood favorite and offers yummy food and libations, an awesome patio, live music, and late-night dancing. This is also a great place to catch the game, whether it be American or Irish/European "football."
 Recommendation: The Patio and Jameson!
Celtic Crossing is a stop on our Midtown route and offers a variety of "Bombs" for a super cheap price!! Think Irish Car Bombs with some yummy twists.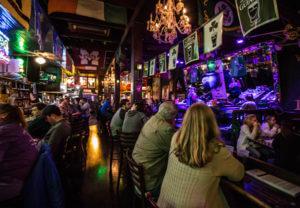 Description: This Irish Bar should definitely be on your things to do in Memphis list! Silky O'Sullivan's (Silky's) has been around since the early 70's and is an awesome place for live entertainment on Beale Street. From soulful and jazz bands during the day to dueling pianos at night, this place is nothing short of FUN! Request your favorite songs (for a small price) and let the bachelor(ette)/birthday guy/gal sit on the piano for some extra laughs as the piano singers join in the party and take it to the next level.
 Recommendation: The Diver! This fruity concoction is served in a "diver bucket" large enough for a group to sip. The more straws, the better!
Silky's is a one block walk from the Sprock n' Roll Lounge located in Tin Roof. 
Maximize the fun on your Memphis pub-crawl with a Sprock n' Roll Party Bike Pub Crawl!
Don't want to go through the hassle of planning your Memphis pub crawl? Hop on a Sprock n' Roll Party Bike Tour.  You bring the drinks and we'll take care of the rest!